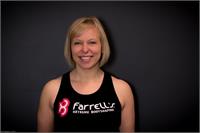 Stacy Reimer
Stacy joined FXB Bellevue in 2012 on her youngest son's first birthday in hopes of some exercise accountability.
She had a lifetime of obesity behind her and needed some back-up before she fell into that cycle once again.
FXB was definitely the answer and is why she returns every day.
Everyday accountability, like minds, powerful workouts, exercising with her husband AJ and STICKERS drive her through the door each day.
Stacy has been instructing since 2014 (a job she never would have dreamed of having in the past) her only hope to continue to hone her skills each day on the mats. She really, really loves being "bossy"!