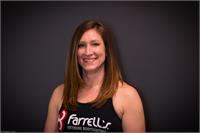 Shylo Bartunek
Shylo started FXB Bellevue with the summer session of 2012. She heard an ad on the radio and thought it would be fun and switch up her workouts in a group setting. She.Loved.It!
Workouts were challenging and she learned a lot about nutrition for the program to work. After a short hiatus she returned back as a FIT student the spring of 2013 and has never looked back. She is going on 6 years with FXB Bellevue!
For the past 3 years she has been a level 2 strength training instructor. Her favorite is LEG DAY! She loves being on the mic to deliver an effective workout and push her students each time! She has recently become a kickboxing instructor as well.
Shylo states: "FXB Bellevue is not like any other gym, it is like a family. We get to know our students by face recognition and name. There is always a smiling face to greet you when you come through the door."