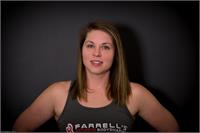 Jacki Rose
Jacki Rose joined FXB with the hopes of losing weight, getting healthy and giving a boost to her self confidence. She has been a member of FXB since January 2015 and became an instructor in October 2016.
Jacki loves FXB Bellevue because she has nutrition plans available, pre-written 45 minute workouts that leave her exhausted but refreshed but ready to face the day.
Jacki states that FXB is a place to workout 6 days a week that offer multiple class times, a community of encouraging people that motivate you and keep you accountable on and off the mats. "You just don't find that at fitness facilities!"