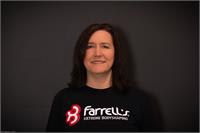 Denise Boever
Denise joined FXB Bellevue in the Spring of 2013. She watched her former neighbor Erika's amazing transformation via Facebook and then met Jenelle Kress who invited her to try a class. She went, and she was hooked. So hooked she tricked her husband Dave into trying it who also became hooked.
Denise has been the FIT Coach in Bellevue for the last 3 years and became a strength training instructor in 2016. She rounded out her instructing by learning Kickboxing and has been a kickboxing instructor since 2017.
Denise and her husband Dave were given the opportunity to join Nick Senior in owning FXB Bellevue in the fall of 2018. Denise says "FXB Bellevue is not only a killer workout, it's my second family." She attributes her success here to the FXB community. "It's like having hundreds of accountability partners".